BARRY CUP:
Worth Its Weight In Gold
The barry cup continues its strong run as the premier sporting event for amateurs in the region where it draws massive support from the growing golf fraternity. Apart from the finesse exhibited in the field by the select handicappers during the championship, it has also emerged as a gem of socialization and the festive camaderie that pervades the ocean facing club is usually the premium outing for the regional and upcountrytourists.
Plans are underway to include the scenic Mombasa Golf Club in the tourist itineraries of the high number of foreign tourists who flock the town due its prominent location on the Mama Ngina Drive promenade.
The Barry Cup is the oldest Golf trophy competed for in the Coast having first been donated to the Mombasa golf Club in 1913. The donor Mr. Percy Barry was not only a founder member of the Club but was the first Honorary Treasurer and Captain a whopping four times.
Captain a whopping four times. For this exemplary service he was elected an Honorary Life Member. Mr. Barry was a golfer of no mean repute and won the first Barry Cup competition when it was played during the Christmas season of the same year.
Originally it was intended that if any competitor won the trophy three times in a row then trophy would become that winner's property.
However, when Mr.A.J.Boland achieved the feat after swimming in 1932, 1933, and 1934, the Club Committee recommended thta the trophy be held in perpetulity as a Challenge Scratch Trophy to commemorate Mr. Barry soutstanding service to the club.
The Barry Cup has been played under the aegies of the Kenya Golf Union since 1928 but only two local coast based golfers have won in the past 40years.
In 1967 Dr.R.A Davidson(Dr.Bob) won and was not until 2004 that Mr.Musa Odada repeated the feat beating a strong slate of upcountry golfers from East Africa.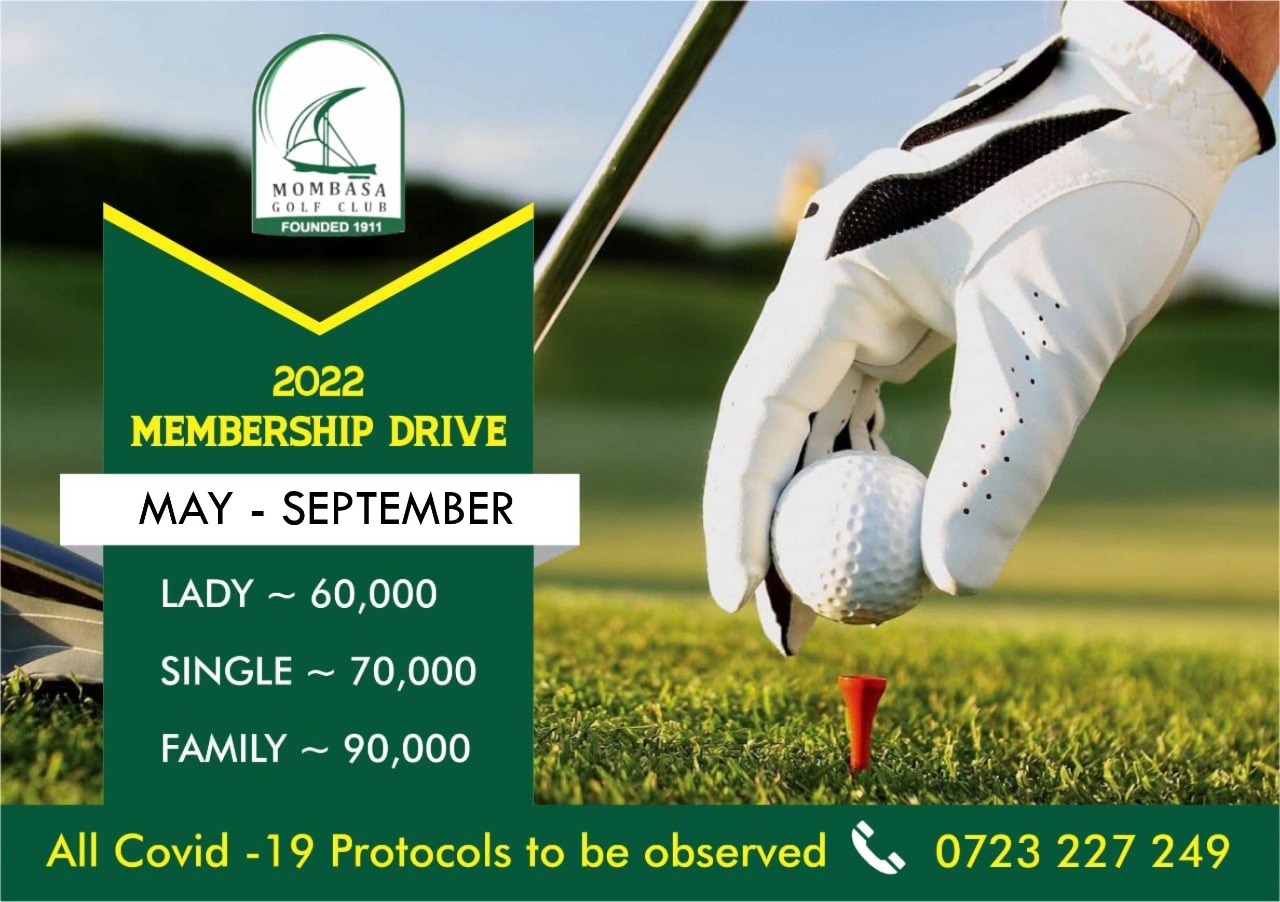 The Barry Cup Past Winners
1913 P. Barry
1914 J.L. Allen
1915 J.L. Allen
1916 W.P. Willes
1917 R.Cook
1918 R.Jess
1919 G.H. Pickering
1920 W.Allan
1921 G.H. Pickering
1922 T.K. Allen
1923 R.H.M. Oliphant
1924 R.S. Campbell
1925 R. Cruickshank
1926 E.G.Bale
1927 H.A. Markus
1928 H.A. Markus
1929 R.Forrest
1930 A.Holden
1931 H.A.Markus
1932 A.J.Boland
1933 A.J.Boland
1934 A.J.Boland
1935 H.V.Anderson
1936 H.V.Anderson
1937 S.Bloomberg
1938 R.W.Burt
1939 R.W.Burt
1940-1945 not played
1946 S.A.Galloway
1947 J.Schlaphoff
1948 A.Holden
1949 T.W.Cadell
1962 A.Martindale
1963 J.Dunglinson
1964 R.J.E.Mayers
1965 R.A.Nicholas
1966 M.J.Humphreys
1967 R.A.Davidson
1968 R.A.Bird
1969 R.J.E.Mayers
1970 R.J.E.Mayers
1971 B.Marjan
1972 S.Omar
1973 R.J.E.Mayers
1974 S.Omar
1975 J.Mucheru
1976 J.Mucheru
1977 C.Nevill
1978 J.Mucheru
1979 J.Mucheru
1980 C.Nevill
1981 J.Mucheru
1982 P.Chapman
1983 G.Ndegwa
1984 D.Raffar
1985 J.Kingori
1986 H.Rajab
1987 P.Githua
1988 J.Mucheru
1989 J.Mucheru
1990 D.Wandua
1991 J.Mucheru
1992 D.Wandua
1993 M.Kiburu
1994 R.Brown
1995 H.Thety
1996 H.Thety
1997 C.Thety
1998 N.Patel
1999 R.Ainley
2000 A.Shah
2001 P.Gitwa
2002 D.Othiambo
2003 K.Timbe
2004 M.Odada
2005 N.Mudanyi
2006 N.Rokoine
2007 G.Snow
2008 B.Nyenza
2009 S.Muthugia


2010 S. MUTHUGIA
2011 D. OPATI
2012 D. OPATI
2013 D. NDUVA
2014 MATHEW WAHOME
2015 MATHEW WAHOME
2016 F. KIMANI


2017 M. KISIA
2018 G.FELIX
2019 S.NJOGU